This week's sparkling wine is a Crémant from the Burgundy region of France, the N.V. Louis Bouillot Perle d' Aurore (Pearl of Dawn).  It is a sparkling Rosé. Burgundy is best known for their world-class Pinot Noir and White Burgundy (Chardonnay).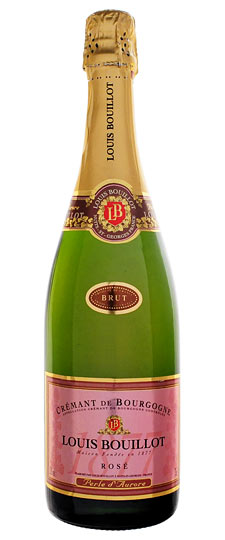 N.V. Louis Bouillot Cremant de Bourgogne Rosé "Perle d'Aurore"

Region: France; Burgundy; Cremant de Bourgogne
Variety -80% Pinot Noir & 20% Gamay
Dosage – Unknown
$14, 12% abv
Production method: Méthode Traditionnelle; Aged 24 months, sur lie

My tasting notes follow:
Appearance:  Salmon
Aromas: Cherries and a bit of oak
Body: Aggressive mousse with tiny, dispersed bubbles. Fruity on the front palate, and dry on the back palate.
Taste: Cherries and fuji apple
Finish: Short
Pair with: The beauty of sparkling wines is their versatility with food. We enjoyed this with a variety of grilled salmon. It's enjoyable as an aperitif, but I found it to be a bit better with food.  It would pair well with grilled seafood, grilled chicken, or a mixed seafood pasta cooked in a tomato garlic sauce.
This wine is a good value for a Rosé sparkler.  However, I would spend an extra $2, and buy the Taltarni Brut Taché  from Australia, which I rated 90 pts. Nonetheless, I like this wine – 84 pts