This week's sparkling wine is a Prosecco from Italy, the N.V. Sorelle Bronca Prosecco – Extra Dry.  For many years Prosecco was used to describe both the grape, and the region where the grape are grown.  In mid 2009, Italian wine regulations were revised to clearly state that Prosecco was no longer to be classified as a grape, but a region that was clearly delimited and known as the Conegliano-Valdobbiadene, which is a classified as a DOCG, the highest status for Italian wines.  Nowadays, the grape is known as Glera.
What makes Prosecco different from the sparklers we've tasted is that Prosecco is not made using the Méthode Champenoise  where secondary fermentation occurs in the same bottle in which the wine is made.  Rather, according to the "Wine Bible"…
 "Prosecco is not made by the Champagne method, but rather by the Charmat process, in which the wine undergoes a secondary fermentation in pressurized tanks rather than in individual bottles"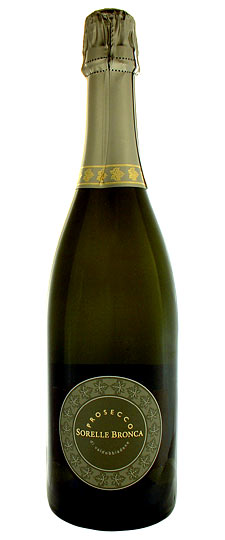 Sorelle Bronca Prosecc0 – Extra Dry

Region: Italy; Veneto; Valdobbiadene
Variety – 100% Prosecco
Dosage – 16gr/Lt
$17, 11% abv
Production method: Charmat Bulk
My tasting notes follow:
Appearance: Light straw color.
Aromas: Pear, Fuji apple with slight floral note.
Body: Tiny, delicate, dispersed bubbles. Light bodied, fruity and crisp with good balance of fruit, acidity, and minerals. 
Taste: Fuji apple and pear.
Finish: Short
Pair with: The beauty of sparkling wines is their versatility with food. We enjoyed this with a Crab Frittata. This one would be enjoyable both as an aperitif, and with food.  Would pair well with Salvadoran tamales, Garlicky Shrimp pasta, and lighter cuisine.
I enjoyed this more than most other Prosecco I've had because it's a balanced off-dry style.  While not complex it is enjoyable, and I would buy again.  I recommend – 85pts
Related Articles