If it's Friday, that must mean there's Champagne and the like to be had!   If you're new to this series of blog posts, it came to be because my wife suggested we drink "Champagne" at least once a week.  We decided on Fridays so we could bid farewell to the work week and kick off the weekend!
This week's sparkling wine is a Rosé, the 2009 Luis Pato Baga Espumante Beiras, which I stumbled across while poking around the K&L Wine Merchants website.   I decided to give it a try , and go where no man, or woman has gone before – well at least on Cellar Tracker.  This one was interesting to me on two levels, first I wasn't aware that sparkling wines were produced in Portugal (where they are known as "Espumante"- click here for a great primer on Portuguese Sparkling Wine), and secondly this sparkler is made from the Baga grape, with which I was completely unfamiliar. Of course, Portugal mostly know for Port, and is up and coming in mostly red and some white wines, and finally "grown folk" may remember Mateus Rose.
Baga is a red grape that produces very tannic wine with high acidity.  While there are red grapes (most notably Pinot Noir, and Pinot Meunier) used in the production of Champagne and sparkling wines, they are grapes that are not very tannic.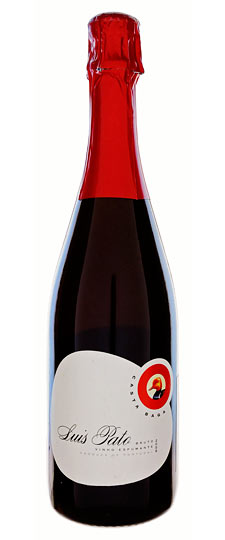 2009 Luis Pato Baga Espumante

Region: Portugal; Bairrada
Variety – 100% Baga
Dosage – Unknown
$15, 12% abv
Production method: Méthode Champenoise; S/S fermentation
My tasting notes follow:
Appearance: Light crimson.

Aromas: Yeast, strawberries and spice

Body: Tiny, dispersed bubbles, minimal mousse with course texture that dissipated quickly.  Light bodied, fruity, yet very dry with good acidity. 
Taste: Tart raspberries, red currant and minerals

Finish: Short
Pair with: The beauty of sparkling wines is their versatility with food. We enjoyed this with grilled salmon, accompanied by an avocado/tomato salsa my wife put together. It would pair well with non-beef roasted meats,  grilled or roasted seafood, and shellfish.
This was a good sparkling Rosé, that was drier than most.  I didn't particularly care for it on as an aperitif, but it was definitely better with food. Setting aside the novelty factor, I wouldn't purchase again. (83pts)
Related Articles