Well, after 6 weeks of other than Champagne sparklers, this week it's actually Champagne. Technically, and legally speaking, thanks to a trade agreement the U.S. and France, the bubbly stuff that's made in the Champagne region of north-central France is Champagne, and everything else is sparkling wine (There are a few exceptions for wineries like Korbel which were grandfathered in) of one sort or another such as Cava (Spain), Prosecco (Italy), or Crémant (French sparkling wine from outside of the Champagne region). We were in a celebratory mood so we splurged a bit this week…thus Champagne!
Gosset is the oldest wine house in Champagne, having been established in 1584 by Pierre Gosset.  For a grand marquee they have a relatively small production of about 50,000 cases.  None of their Champagnes ever go through malolactic fermentation, which results in higher acidity. The Brut Excellence is their entry level cuvée.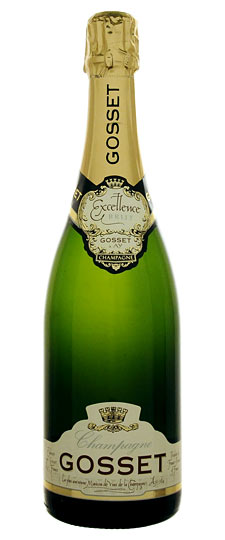 Gosset "Brut Excellence" Champagne

Region: France>Champagne
Variety – 36% Chardonnay, 45% Pinot Noir, 19% Pinot Meunier
Dosage – Unknown
$33, 12% abv
Production method: Méthode Champenoise;
My tasting notes follow:
Appearance: Brilliant pale gold, with a persistent bead of tiny bubbles surrounded by a constellation of pinpoint bubbles

Aromas: Fuji apple, brioche, and a bit of licorice

Body: Soft creamy mousse.  Medium-bodied, fruity yet complex.  Balanced with nice acidity. 
Taste: Tart apple and peach at first followed by sweetened lemon zest, and spice on the back end. 

Finish: Medium long finish
Pair with: The beauty of sparkling wines is their versatility with food. We enjoyed with typical Champagne fare – sushi, but try this with variety of fish dishes garnished with lemon, or butter based sauces.  Would also work well with braised, or simply grilled poultry, or pork.
I really enjoyed this pinot dominate cuvée.  As I reflect on this Champagne, I keep thinking how much more I enjoyed this, than the ubiquitous Veuve Clicquot Ponsardin Brut.  I enjoyed the taste more, it costs less, and they are of comparable quality.  If you're looking to splurge a bit for Champagne, I'd recommend this one.  I bought for $33, but it can be found for less. Click here to find.  Next time I want to splurge, I'd buy this one again!
In Vino Veritas!
Related Articles