This week we tried a Rosé style sparkling wine from Australia made from the three traditional grapes in Champagne, Pinot Noir,Pinot Meunier, and Chardonnay…but with twist referred to as Taché.
Taché is a French word meaning 'stained' and refers to the rare wine making method used since 1985 at Taltarni to create this delicious sparkling wine. Its pale salmon pink color, and unique taste is achieved by adding a dash of red wine (Cabernet Sauvignon) liqueur to the finished tirage wine at disgorgement.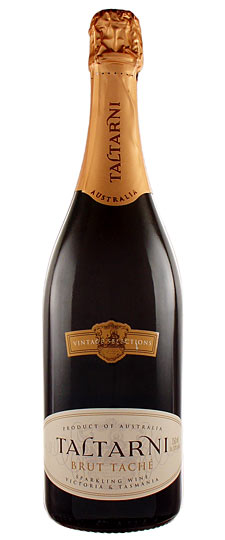 Region: Australia>Victoria (57%)>South Australia (38%)>Tasmania (5%)
Variety –  52% Chardonnay, 41% Pinot Noir, and 7% Pinot Meunier
Dosage – 15mL Cabernet Sauvignon
$16, 13% abv
Production method: Méthode Champenoise;
My tasting notes follow:
Appearance: Lovely pale salmon color with persistent stream of tiny bubbles.
Aromas: Floral with stone fruit (peaches/apricots),and a faint scone note.
Body: Creamy mousse.  Light to medium bodied.  Dry with a light fruitiness, good acidity, and a clean finish.  
Taste: Watermelon, red berry flavors, and a bit of hazelnut.
Finish: Medium long
Pair with: The beauty of sparkling wines is their versatility with food. This one is no exception.  It was enjoyable as an aperitif, but really shined with our meal. We enjoyed it with fried seafood (fish, oysters, shrimp, and scallops), and chips. I think it would also be seriously satisfying with charcuterie, and Chinese food.
We rarely finish a bottle of wine in one night, but we finished this one! And whenever we do, I score the wine at least 90pts.  And that's what I scored this one.  I think it's very good value at $16 – it compares very favorably to rosé sparklers at twice the price. To sum it up in three words…will buy more!    I highly recommend. – give it a try!  Click here to find (also available at Whole Foods – for a few more dollars)
Related Articles