One of the true gifts that wine and food offers is the ability to transport you to the culture of another place.  Paella is one of my favorite foods, and whenever I have it, it isn't hard to imagine myself savoring a warm, sunny day in Madrid, or Costa del Sol enjoying an evening repast of tapas, followed by paella, while enjoying a glass of wine, or sherry (or better yet, both!).  Traditional paella is a simmered rice dish that includes seafood or meat (chicken and rabbit traditionally) that typically takes an hour, or more to prepare.  I found this 15 minute version from Rachel Ray, in which couscous replaces rice.  It has the familiar flavors of a mixed (chicken, sausage, and seafood) paella.  All that is missing is the bottom crusty part of the rice, called the socarrat. That's a trade-off I'll take any time to enjoy the flavors of paella on a weeknight!
Besides being able to prepare this on a weeknight, the other thing I've come to appreciate about this recipe is its flexibility.  I usually prepare with boneless skinless thighs rather than breast meat because I prefer the tenderness, and flavor of thigh meat.  And more oft than not, I substitute, or augment the recipe depending on what's on hand, or my mood.  For example, the last time I prepared it, I substituted a pound of Trader Joe's seafood trio (shrimp, calamari, and scallops) for the shrimp.  Or, if I have canned clams on hand I might throw them in. You can not only substitute meats, you may also substitute clam juice, or seafood stock (1/2 to 1/3 cup) for the chicken stock if you prefer stronger seafood flavor.
From Rachel Ray's website:
Ingredients

1/4 cup extra virgin olive oil (EVOO), about 4 turns of the pan
1/2 pound fresh uncooked chorizo, casings removed and cut into bite-size dice
3/4 pound chicken cutlets or tenderloins, cut into bite-size pieces
1 fresh bay leaf
4-5 sprigs fresh thyme (tip: tie them together to make it easy to retrieve later)
1 medium onion, chopped
1 pound medium size shrimp, peeled and deveined
1/2 teaspoon crushed red pepper flakes
4 cloves garlic, grated or chopped
2 Piquillo peppers or 1 roasted red pepper, chopped
1 teaspoon turmeric (eyeball it in your palm)
1 envelope saffron powder or a pinch of saffron threads
Salt and pepper
2 cups chicken stock
2 cups couscous
1 cup frozen green peas
Zest of 1 lemon
A generous handful of flat leaf parsley, chopped
Preparation
Heat EVOO over medium-high heat in a deep skillet – make sure to choose a pan with a tight-fitting lid. Add the chorizo, cook for one minute to render some of its fat, then add the chicken, bay leaf, thyme and onions.

Cook for two minutes to start softening the onions, then add shrimp, red pepper flakes, garlic, Piquillo or red peppers, turmeric and saffron, and cook until shrimp are just about cooked through, about three minutes.

Season with salt and pepper; then add chicken stock.

Bring stock to a boil, about one minute. Stir in couscous, peas and lemon zest. Cover and turn off heat. Let stand five minutes then fluff with fork. Remove bay and thyme stems, sprinkle with chopped parsley and serve.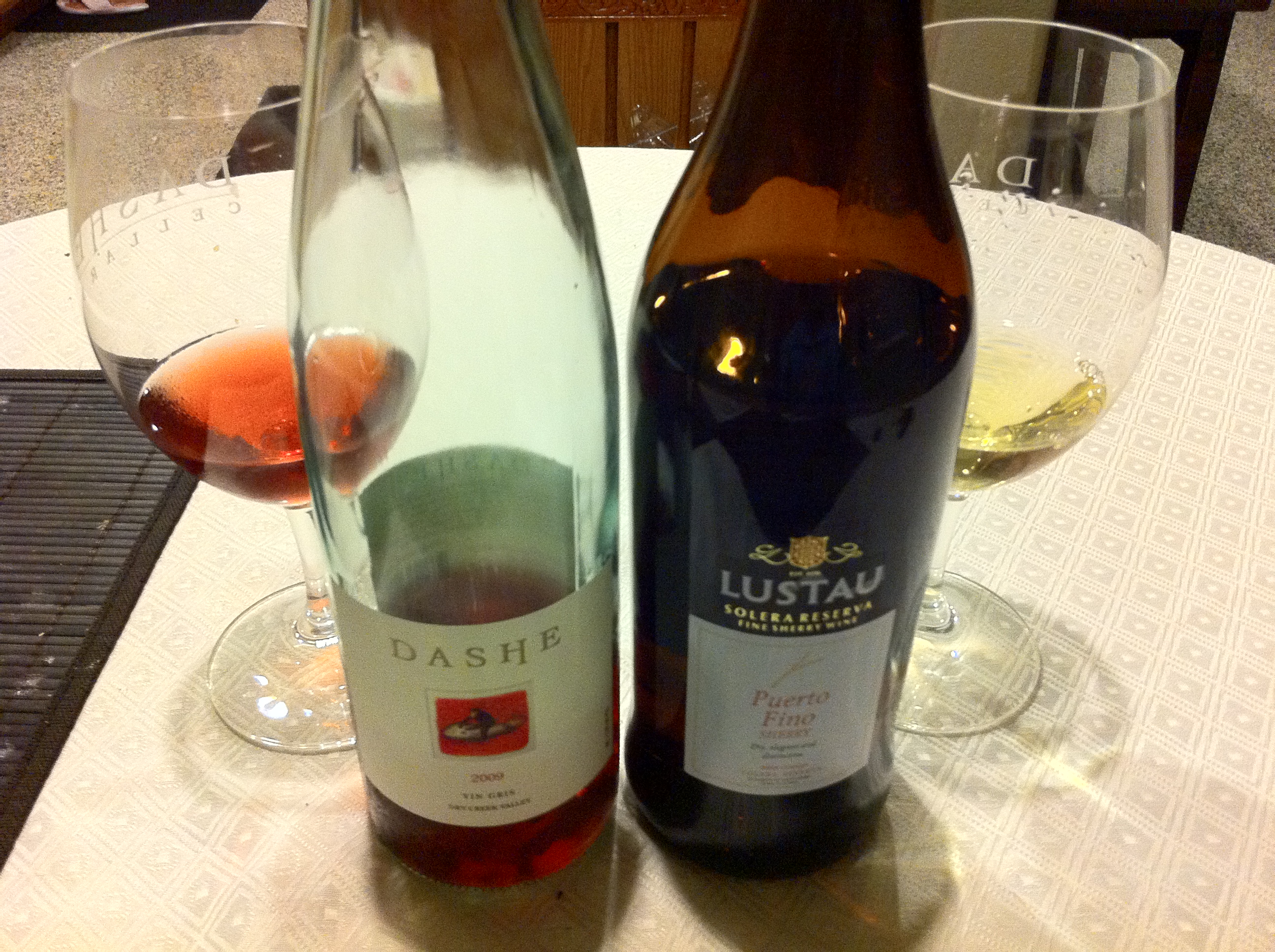 Of course, no meal is complete without wine.  I think a dry Rosé is a great pairing for this dish.  I've had it many times and always enjoy it. However, I've been wanting to try Sherry since I understand it's so food friendly, and because it's a wine made in Spain.  So, I decided to give both a try.  For the Rosé, I picked one of my favorites, the 2009 Dashe Vin Gris (click here for my review).  For the Sherry, I picked Lustau Puerto Fino Solera Reserva
Both the Rosé, and the Sherry paired very well with the paella, although I didn't enjoy the sherry quite as much as I enjoyed Rosé. It was my first experience with sherry, and I found it to be a bit chalky and briny on the nose and the palate, as opposed to the fruity nose and palate with which I'm accustomed to with other wines.  Consequently, I enjoyed the Rosé more on a stand-alone basis, while it seemed the sherry didn't shine until it was paired with the paella.  I look forward to trying the sherry again, but my initial impression is that it'll be an acquired taste for me.
If you preference is white wine, try a dry Riesling, a Rhone white from Languedoc, or a Rueda if you want to stick with the Spain theme. If you prefer a red, try an inexpensive  tempranillo from Rioja, or medium bodied Garnacha(Grenache), or Garnacha blend  from Priorat.  My only caution for a red would be to avoid a "fruit bomb", or any highly alcohol, highly tannic red.  Experimenting with wine and food pairing is half the fun!
Salud!
Related Articles