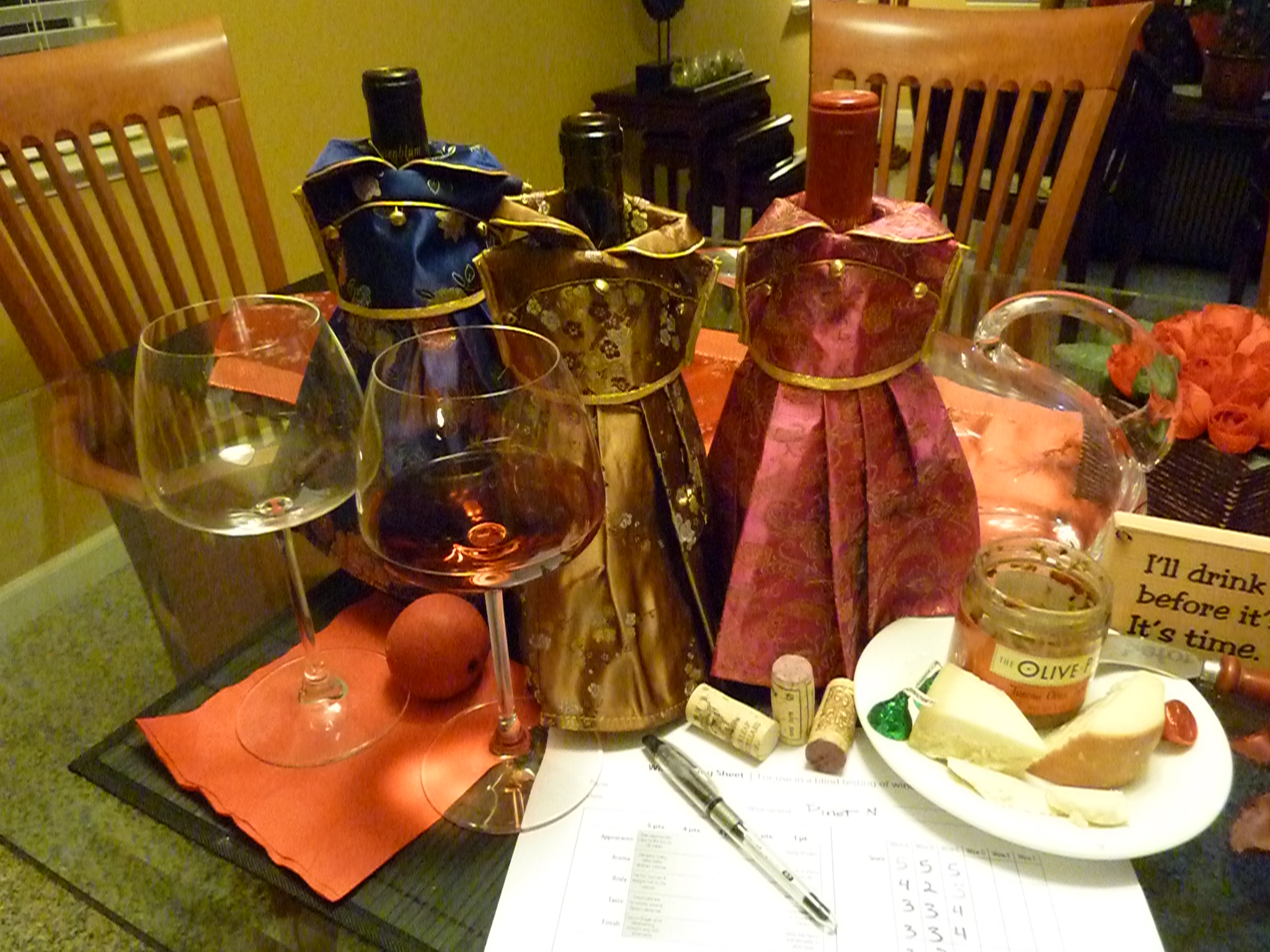 A year ago today, on the last Friday in January, we held the first meeting our neighborhood wine tasting club, the Pacific Point Wine Tasting Club ("PPWTC").  It's been a great year, that after a slow start, has exceeded our expectations. We've got a great nucleus of members, which is frequently supplemented by our friends and friends of our neighbors.  The meetings are educational, food-filled, and fun.  And on top of that we've made new friends and found opportunities to socialize outside of the wine tasting club meetings.  By all counts a successful wine tasting club!
I've been reflecting on our experiences, and want to share what I think makes our wine tasting club successful.  I must confess one of the first thoughts that come to mind is how we didn't follow many of the notions set forth by wine tasting club authorities (see links below).  I'm not suggesting those notions are not well-founded.  They just didn't ring true for our wine tasting club, primarily because they seemed too formal.  With that caveat in mind here goes!
Pick a meeting time that will maximize attendance – We meet Friday nights at 7pm, which seems to be a great night and time to meet, because folks are so busy on the weekends these days (not to mention folks like the idea of decompressing on Friday night).  So if you're considering a wine tasting club, when you canvass your friends/neighbors, try to get  sense of what time will work best for the majority of folks (including you, especially if you're hosting). Don't be discouraged if you start with a small group.  Only 5 people attended our first meeting, since then we've had at least 12, and as many as 22.
Know your audience – I think it's helpful to know your audience. In our case, we have a mixed group.  There are a few of us for whom drinking, and tasting wine is a lifestyle, but most of the members drink wine only occasionally, and tend to stick with the ubiquitous trio of Chardonnay, Cabernet Sauvignon, and Merlot.  With that in mind, we wanted to keep the meeting relaxed, fun, and educational, without having too many formalities such as a glass for each wine sampled, setting up multiple meetings in advance, or a rigid agenda for each meeting.  But you may want more formality if the collective group has more experience.  Knowing your audience will also help to determine which wines to explore.  If the group is mixed or relatively inexperienced start with one of the aforementioned Chard/Cab/Merlot triumvirate.
Have food for the meeting – A huge part of the enjoyment of wine is enjoying it with food.  In fact, I think most people who have an interest in wine, but haven't actively pursued that interest, are intimidated by not only wine, but also by wine and food pairing.  A great way to demystify wine and food pairings is to have a variety of food that pairs with the wine being tasted at the meeting. Having cheese that pairs with the wine is a great starter, but we go beyond a light snack.  With the PPWTC you could skip dinner, and just eat at the meeting. It's a wonderful way for individuals to discover which food/wine pairings that suite their palate. We habitually share some food and conversation before we begin the blind tasting of wines.  There are many on-line resources for wine and food pairing ideas. Be resourceful and creative. For our club, it's about communion through food and wine, not solely about the wine.
A bit of education – This is where knowing your audience comes in handy.  If your audience has little or no experience, then a bit of education with their wine is a beautiful thing.  We "profile" the grape varietal we taste at our meetings.  Nothing fancy.  There's plenty of information on the web about the characteristics of most grape varietals.  One of the primary resources I use is Professional Friends of Wine for grape profile information.  Wikipedia is also solid source of information.   Until recently, I used to handout the grape profile, but then I realized only the wine geeks (Er…that'd be me!) was really paying attention to the handout.  Whether your communicate the information via a handout, or verbally, I think it's helpful to have some background on grape varietal, and provide information about  what aromas, and flavors to look for (For sample see; Pinot Profile).  A bit of

trivia

can be help keep the education interesting as well.  Keep it short – you don't want to get between people and their wine tasting!
Simple scoring – Use a simple scoring system. We use a modified version of a scoring sheet that may be downloaded from winecountrygetaways (There are two; we use the "Serious Blind Wine Tasting" version).
A few other things to remember/consider:
Make a spit bucket available, and have water on hand to cleanse the palate.
Depending on how many are in your core group, consider inviting friends of friends.
If you can, share the load – We alternate who hosts the meetings.
Limit wines tasted to 4-8, bottles.  If more than that brought for tasting, relax and drink the others after the scores are in!
Related Articles