I truly enjoy it when my adventure through "Winedom" takes me to unexpected places, particularly when it comes to wine and food pairings.  Such was the case when a friend suggested I give Rosa Regale a try after reading my post about our wine club's blind Champagne Tasting.  He didn't say much about it other than it was "great" with chocolate.  Better yet, the next day he gave me a bottle.  Yes indeed – action does speak louder than words!
After receiving the bottle, I was intrigued because Rosa Regale is a red sparkling wine.  I'm no stranger to red sparkling wine, having enjoyed one for Thanksgiving, but a red sparkling wine that would pair well with chocolate, I had to know more!
Here what I found out – Rosa Regale is produced in Italy's Piedmont region in the Brachetto d'Acqui DOGC – Denominazione Di Origine Controllata e Garantita, which is a specific geographic area in Province of Alessandria. It's a spumante (which means foaming) made from the Brachetto grape sourced exclusively from a single vineyard known as La Rosa. The Brachetto, is a red grape used to produce both still and sparkling wines.  It tends to produce light bodied, highly aromatic wine with a distinctive strawberry aroma.  And to my surprise I also discovered that Italy produces more sparkling wines from more different grape varieties than any other country in the world!
I decided to try the Rosa Regale with a Chocolate Truffle Tart for our Christmas Eve dinner.   The Chocolate Truffle Tart is dense, rich, intensely chocolate dessert with soft, almost gooey center abounding with bits of chopped bittersweet chocolate on top of a flaky chocolate crust that contains a touch of cinnamon.  The filling is topped with unsweetened cocoa that contrasts beautifully with sweetness of the filling.  And since up to this point whenever I'd thought of a wine to enjoy with chocolate, I thought of Port, I decided to also pair the dessert with a 1997 Dow's Colheita Porto I had on hand.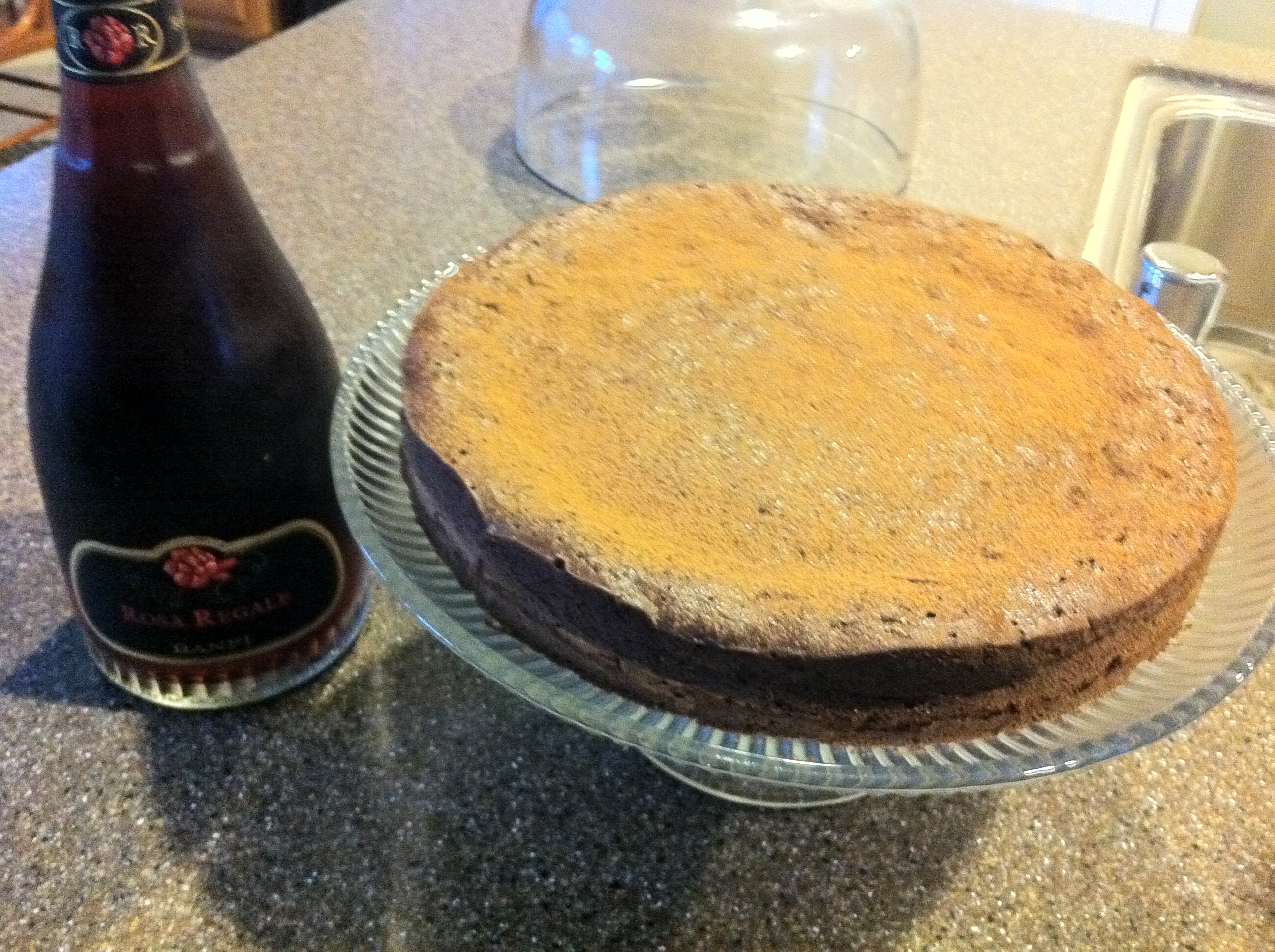 I tried the dessert with the Rosa Regale first, and it was a wonderful pairing indeed!  The Rosa Regale was sweet enough to stand up to the sweetness of the Chocolate Truffle Tart.  I picked up raspberry flavor when I tasted the Rosa Regale, and that raspberry flavor was fabulous with the dessert.  And the two together brought to mind a bittersweet flourless chocolate cake topped with a raspberry coulis.  But what I really enjoyed about the Rosa Regale was how the acidity and effervescence inherent in a sparkler cleansed my palate for the next bite.  When pairing food and wine, options include mirroring the food, or setting up a contrast.  For me the Rosa Regale was more of a contrast because it wasn't as sweet as the dessert, but the fruitiness was a delightful compliment to the dessert.  On the other hand, the Porto more so mirrored the sweetness of the dessert. The Porto also paired well with the dessert, but I enjoyed the Rosa Regale more.  Not only because of the contrast, and effervescence, but also because of the versatility of Rosa Regale.  Flexibility is an important consideration for me when pairing food and wine, and I can easily see how the Rosa Regale would work not only with dessert, but as an aperitif,  appetizer, or with a variety of entrees, (Spicy ethnic foods come to mind – for other pairing suggestions with Rosa Regale click here).  It easily trumps Porto for food pairing flexibility.
Yes indeed…the more I learn, the less I know…and thankfully so!
Related Articles