We held the bi-monthly Pacific Pointe Wine Tasting Club meeting last Friday night. Once again it was a fun, food, and wine filled evening.  We blind tasted 10 Pinot Noirs purchased for between $10, and $25 as follows:
2007 Kendall-Jackson Pinot Noir – $16
2004 David Bruce Santa Lucia Highlands Pinot Noir – $17
2007 Artesa Carneros Pinot Noir – $16
2008 Query Central Coast Pinot Noir – $20
2008 Cycles Gladiator Pinot Noir – $10
2003 Bethel Heights Pinot Noir Willamette Valley – $22
2009 Francis Ford Coppola Director's Pinot Noir – $22
2008 Mark West Pinot Noir – $15
2009 Dahlia Reserve Pinot Noir – $20 (Bev Mo)
2008 Mirassou Pinot Noir – $10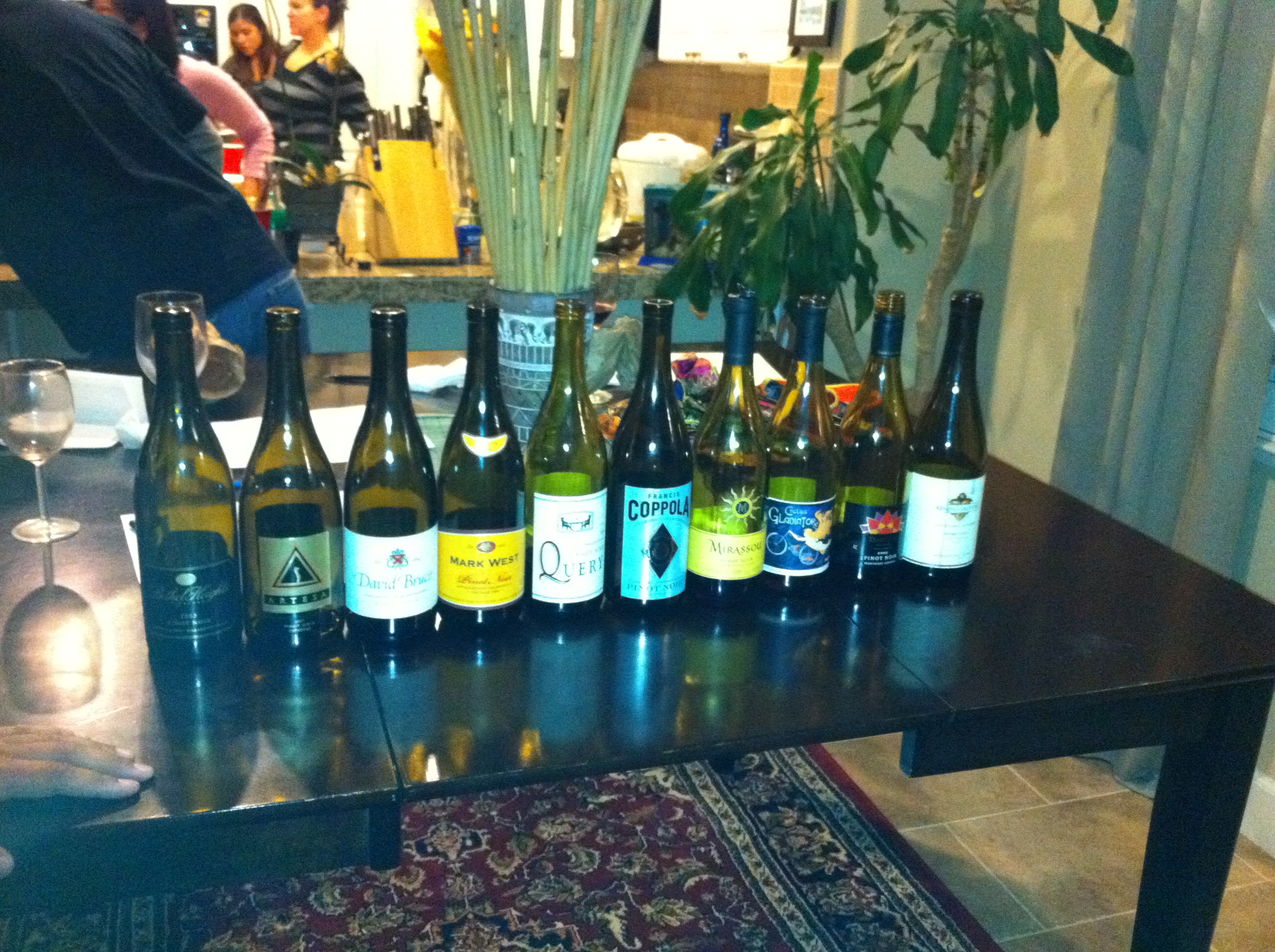 The winner, with an average score of 89 pts., was the 2003 Bethel Heights Pinot Noir.  The first runner up was the 2007 Artesa Pinot Noir Carneros, with an average score of 87 pts.  The second runner up was the 2004 David Bruce Pinot Noir Santa Lucia Highlands, with an average score of 86.8 pts.
All the Pinots were from California except the winner, Bethel Heights, which was produced from Oregon fruit.  That's not really surprising given Oregon's reputation for producing outstanding Pinot Noir.  I found a couple of things interesting about the results though.  First, two of the top three wines were from relatively older vintages (2003, and 2004 vintage). Pinots, especially at the under $20 price point aren't built to age.  But both did well.  The other thing that I found interesting is how as the tasting progressed, many began to enjoy the bounty of appetizers provided as they tasted the wines.  And, each and every one commented how much more enjoyable the wine was when paired with food.   I think the wines were scored higher accordingly.  The issue for those first few wines that were tasted on a stand-alone basis, is fairness because those first 3 or 4 wines didn't accrue the benefit of the tasters enjoying the wines paired with food, and the concomitant higher scoring.  On the other hand, it was great to see folks realize, and appreciate how much more they enjoyed the wine with food, than without. I could really see my fellow tasters experience, for the first time what a food friendly wine is.  For me that outweighed, the apples to apples comparison issue.  After all, our objective is to learn more about wine while having a good time, and sharing that experience with one another.
p.s. – Here's something I didn't know – Pinot Noir is reputed to be  three or four times higher in resveratrol than other grape varietals, especially when grown in cooler and more humid climates. While this doesn't have any affect on the sensory enjoyment, it's good to know for the health conscious.
Related Articles