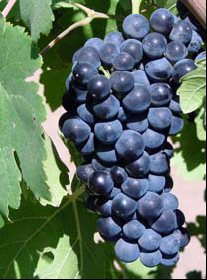 I was headed home Friday after another week of too many hours, and not enough rest. I decided to pick up a pizza on the way home because we'd opened a 2006 Rosenblum Cellars Richard Sauret Zinfandel (88pts) the night before. I decided to get a pizza topped with grilled chicken, sausage, linguica, roma tomatoes, red and green onion topped with a BBQ drizzle, which I thought would pair nicely with the pizza.  I wasn't disappointed.  The Zinfandel was a good pairing with the pizza.
The next day, to my surprise, I discovered the pizza made it through the night and the next day (we have a 17 y.o. boy at home…enough said).  As fortune would have it, my wife had opened a 2007 Rosenblum Cellars Petite Sirah Pato Vineyards (90pts) the night before so a friend who'd never tried a Petite Sirah ("PS") before.  While the pizza with the Zinfandel was a good pairing, the PS  with the pizza was a great pairing.  As I savored the PS/pizza pairing, I remarked to my wife "You know, I love a wine with some tannins in it", which is why I love PS!
PS tend to be "big" wines, meaning generally rich, full-bodied, intensely flavored with a concentrated feel on the palate. It's known for its dark inky red color, and firm tannins. PS characteristically have effusively fruity, wild berry, or plummy aromas and flavor, along with rustic spiciness that may bring to mind pepper, nutmeg, or cloves. And some would suggest it is the most intense red wine in the world.
For those of you who may not have tried a PS (Peh-TEET Sih-RAH), it's a wine with an incongruous name because it's neither petite, nor a Syrah.
In fact PS is the love child of the "noble" Syrah grape, and the little known Peloursin grape.  It was created by a French botanist, Dr. Francois Durif who crossed the flower of a "mother" vine with the pollen of a "father" vine, and named the offspring after himself. So, it's possible you may come across a wine made with Durif grapes, which is synonymous with PS in the United States.  Ironically, though the grape originated in France, it is virtually extinct there today.
Like Zinfandel, PS has a long history in California, and in fact is the other American Heritage grape (along with Zinfandel) because of its long history here in the States, particularly CA where about 80% of worldwide PS vineyard acreage is planted.  Historically, like Zinfandel, PS was planted as part of a  field blend interspersed with other grapes such as Carignan, Grenache, Mourvèdre, Mission and Muscat.   And PS has long been used to add tannins and color to jug wines.  The first stand-alone PS wasn't released until 1964 by Concannon Vineyards of Livermore Valley.
I was introduced to PS by a mutual friend, Zinfandel.  A few years ago while tasting through Zinfandel at Rosenblum Cellars; I learned that a particularly tasting Zinfandel wasn't 100% Zinfandel.  Upon further inquiry, I learned that PS is added to Zinfandel to give it color.  But I also noticed that particular Zinfandel seemed "bigger" than the others.  After tasting through Zinfandel I tasted a PS.  I found that I enjoyed the dark fruit, but at the time found the tannins a bit off-putting.  Now, I enjoy and appreciate a wine that is "chewy" (i.e. you sense the tannins without them being overwhelming).
Now that we're in Fall, with Winter approaching, it's a great time to give PS a try.  It pairs well with cold weather savory dishes like pot roast and stews.  It's also pairs well with the same foods that Zinfandel pairs with like burgers, BBQ, mesquite grilled steak, roast duck, and dark or bittersweet chocolate.
For a more detailed profile of PS, click here
Related Articles