Over the last few weeks we've enjoyed a variety of  foods, including marinated grilled chicken, spaghetti with Italian sausage, paella valenciana, grilled salmon and makhani chicken, an  Indian dish.  We've had one type of wine with all those different foods – Rosés, which we paired well with them all.  For me, Rosé is the perfect summer wine, and one of the most versatile wines for pairing with all kinds of foods.  The better ones are good all year round.  They have the chillability of white wine, and the bright fruit flavors of red wine.
Rosés are made from red (or black)  grapes.  They may be made from a single type of grape, or a variety of grapes.  For example, of the three Rosés we've had recently,  one was Syrah based, one was  grenache based (88% grenache, 12% syrah), and one was  sangiovese based.  Rosés owe their color the process of fermenting grape juices with their skins for a short period of time.  Whereas red wine is fermented entirely with grape skins, and white wine is fermented entirely without grape skins.   The longer the juice is in contact with the skins the darker the color of the wine.
Rosés can be dry or sweet and the are usually pink,  or washed red in color. I definitely prefer the dry style popularized in Europe, but gaining in popularity here in the US, as opposed to a sweet Rosé such a White Zinfandel which has become  popular in the US.  By dry, I mean the wine has very little residual sugar (An off-dry wine has just a touch of sweetness) A sweet Rosé is less versatile, and tend to not be as complex as the drier style. Typical aromas of Rosés are cherry, berries, and melon.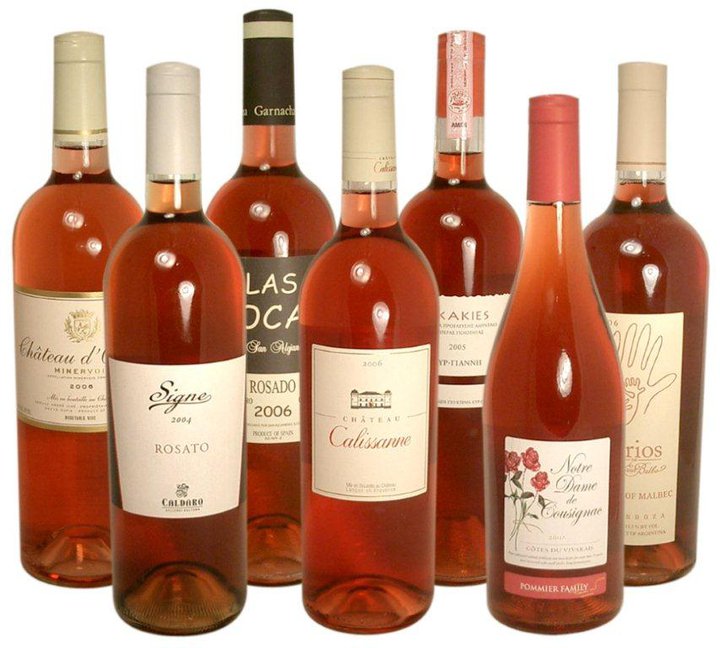 The beauty of Rosé is that it can be both  an easy drinking thirst-quencher on a hot day, while still pairing well with so many foods — from cheeses to sandwiches, grilled chicken, and seafood — and it  goes especially well with internationally spiced dishes including Indian, Moroccan, and Asian fare.  They tend to not be expensive (between $10-$20/bottle), and also tend to be lower in alcohol.
The most highly regarded Rosés come from France, in particular Provence, and Tavel, but they're made all over the world.  In California,  they tend to be Grenache, and Pinot Noir based.  Rosés  may also be made from Cabernet Franc, Gamay and several Italian grape varieties such as Sangiovese, and Barbera. They should be served chilled and drunk young.
While Rosé  is the perfect summer time wine, don't forget about Rosé for Thanksgiving and or Christmas dinner.  Since it's one of the easier wines to pair with food, it's a great wine to pair with the many flavors of a holiday meal.
Related Articles